Breathable Paints For Lime Plaster – What do I need?
Chris
2023-07-26T11:23:42+00:00
It is so important that you use the right paint if you have lime plaster walls, and we can help guide you for what you need, how to do it, and how to improve your overall indoor air quality. If you are new to lime plasters and want to know the difference between lime plasters and gypsum standard plasters please click here.
When you have lime based plasters, you need to choose a paint that is actually breathable, not just 'greenwashed' breathable that you see on almost all plastic paints these days also. Plastic paints are not breathable, not even slightly. Lime plasters need to be able to breathe, so it is important that you have a tested breathable paint for lime plaster, whether it is a natural mineral based paint (that is suitable for painting over lime) or a true (made from lime) breathable lime paint.
If you want something to replace a limewash, then use Graphenstone Biosphere. The easiest paint to use, with most colours is Graphenstone Grafclean, which can be used in the rest of the house over normal plaster / normal paint as well as lime plasters / lime paints.
We stock a few different types of breathable paint for lime plasters, which I will discuss further below.
Buy Breathable Paints for Lime Plasters
Table of Contents
Lime plasters need vapour permeable paints
Lime plasters need vapour permeable paints which allow moisture to easily pass through without becoming trapped behind surfaces of impermeability, such as a modern plastic paint or damp barrier, or even plastic insulation.
SD value for breathable paints
Breathable paints are measured by an index of SD value, for instance an SD (steam diffusion) value of 0.01 – 0.05 shows that the moisture needs to travel 1-5 cm to escape.
An SD value of 1 means that vapour needs to travel 1 meter to escape the surface, so 100 times further than a paint with the value of 0.01. If you don't see the SD value of the paint you are looking at, avoid.
There is currently no regulation for the word 'breathable' in relation to paints, so be cautious. More on breathable paints here.
Can I use any type of paint for lime plaster?
Most paint found at your local store just won't be suitable for lime plasters. 'Normal paints' contain plastics and chemicals, which form an impermeable layer that water vapour just can't get through. Avoid at all costs.
There are lots of paints available for both lime, gypsum and other types of walls, but the difference is not only the composition, IE which chemicals, binders, minerals they contain, but also the breathability. There is a lot of greenwashing around breathability, so in doubt always check the SD value for each paint (lower than 1 is essential)
There are many types of paints made for older houses, lime plasters and older substrates, and the common paints you will come across are
Lime Paints: Lime based, breathable and suitable for lime plasters.
Clay Paints: Both chemical based and natural versions exists, be careful of greenwashing. Usually very flat matt finish. Usually fairly durable.
Distemper: Very old fashioned paint dating back many years, which is a natural mix of chalk, pigment, water with a natural binder such as animal glue.
Mineral paints: Modern natural style paints, containing a mineral base and generally strong and tough. Many types are available, with and without chemicals.
Limewash – Built up of thin coats of lime and water, acting as a sacrificial layer to protect friable brickwork. Great option, but more care and time needed. Read more about limewash here.
Painting New Plaster – How do I paint on new plaster?
If you've just had a room plastered and you're itching to start painting, then read on. This handy guide to painting new plaster will help you avoid the pitfalls and get the immaculate finish you want.
First off, let's deal with a myth. Many people believe that applying a layer of diluted PVA glue to seal the 'plaster' is a must, but professional plasterers and decorators agree that this is a waste of time. It can even lead to a poor paint finish if there are any lumps or inconsistencies in the PVA. We follow the professionals in recommending that you apply our paints directly to the plaster wall. Many conventional and most breathable paints and natural and / or  organic paints need to have a first special first layer applied called a 'mist coat,' made up of paint diluted with water. This helps the top coat to bind with the plaster, but it's time consuming and messy.
Common Questions about painting on lime plaster
So there you have it: If you're planning on painting over new plaster, don't PVA, make sure you save yourself time and effort by using a paint which doesn't need this solution, and make sure you have the right tools for the job.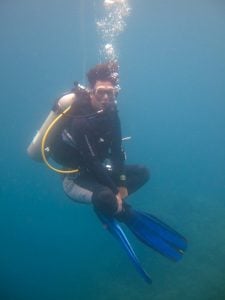 Hi! I'm Chris,  the founder of The Organic & Natural Paint Co, and I'm focused on the education and promotion of natural non toxic alternatives to chemical laden everyday products that we just take for granted. We have a choice, and I want to raise awareness of alternative products that don't actually harm us!
This company is my way of pushing the awareness of better indoor air quality, something that I am personally passionate about due to my own children's breathing medical conditions. I just couldn't paint with big brand standard petrochemical paint any longer and wanted another solution.
Read more: About me
Twitter: NaturalPaintCo
Instagram: thenaturalpaintco