What is the correct preparation needed for painting over wallpaper?
If you have wall paper in the room that you would like to paint, and if  you're wondering if you can paint over wallpaper you've found the right FAQ page,
You may want to leave the wallpaper up for a number of reasons, most of the time people want to leave wallpaper on for convenience, but also you may want too leave it up due to not knowing what is underneath! Whatever your reason for wanting to paint over wallpaper, it is possible to paint over the top.
Obviously we can't give a solution for every single wallpaper that you may encounter, for instance there are some wall papers that are extremely shiny, as well as wallpapers that have a metallic finish, both are quite hard for paint to adhere to. Regardless of the type of wallpaper, we would usually recommend the Graphenstone Ambient Primer, L42, then you can paint over as normal!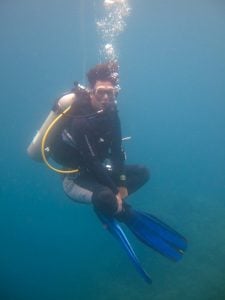 Hi! I'm Chris,  the founder of The Organic & Natural Paint Co, and I'm focused on the education and promotion of natural non toxic alternatives to chemical laden everyday products that we just take for granted. We have a choice, and I want to raise awareness of alternative products that don't actually harm us!
This company is my way of pushing the awareness of better indoor air quality, something that I am personally passionate about due to my own children's breathing medical conditions. I just couldn't paint with big brand standard petrochemical paint any longer and wanted another solution.
Read more: About me
Twitter: NaturalPaintCo
Instagram: thenaturalpaintco