Natural Wallpaper – Finally, an eco friendly and sustainable option!
Eco friendly  and sustainable wallpaper is finally a real option. We have been asking for this for years! Going green is more than just a marketing strategy. It is a movement aimed at protecting the earth, and for some, it has become a lifestyle choice rooted in living as an environmentally conscious person. These environmentally conscious individuals incorporate the green movement into their daily lives, and interior decor is not an exception. (New: We do have a natural wallpaper paste for sale now)
The goal is to create aesthetically pleasing and healthy spaces, right? But how do you do that when paints and wallpapers contain high percentages of chemicals. It gets harder – while the VOC levels in paint are subject to local laws, it is not regulated in wallpapers. So how do you know what you're hanging in your living spaces? Simply choose a sustainable and eco-friendly wallpaper covering.
If you are still wondering why eco-friendly wallpaper is a better choice for your home then read on to see the benefits.
Benefits of a Sustainable and Eco-friendly Wallpaper
Better Air Quality from eco wallpaper
These eco-friendly wallpapers are produced in compliance with strict environmental laws so they do not contain harmful chemicals like VOC that cause strange odours to sit in your home or reduce the air quality in the environment. This makes it safe to hang in any room; kitchen dining and even a nursery.
No Growth of Mildew or Bacteria on natural wallpaper
These sustainable wallpapers are water-resistant so they absorb and release water moisture rather than storing it up to cause rot or bacteria growth in the future. This makes them perfect for areas with high humidity.
Recyclable benefits of natural wallpaper 
Sustainable and eco-friendly wallpapers are made with 100% recyclable materials. They are also removable and reusable so if you are moving to a new home, you can move with your beautiful wall designs. Some of them are also made with reusable wood pulp to preserve our forest vegetation.
Here are the things you need to look out for when choosing a sustainable wallpaper:
Look out for wallpapers printed with water-based ink: Ink usually covers a large portion of the wallpaper patterns so it is best to use wallpaper printed with water-based ink to avoid chemicals

Look out for wallpapers with low VOCs or possibly wallpapers without VOCs at all: They are usually marked certified with the Green Guard certification. 

Look out for wallpapers printed with the Forest-Stewardship Certified papers: They are usually recyclable and are aimed at protecting the environment.
Many people, including wallpaper manufacturers and wall hangers, are now embracing the need for sustainable, eco-friendly, and non-toxic wallpapers. This is increasing awareness and also making the materials more accessible to be used. 
Sustainable and eco-friendly wallpapers are usually easy to apply – they add insulation of moisture, heat and sound, they do not attract dust and dirt, and they allow the walls beneath them to breathe. Even better, they are available in different designs like natural fibre wallpapers, bamboo wallpapers, green "living" walls, wood veneer, and cork.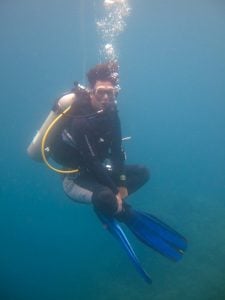 Hi! I'm Chris,  the founder of The Organic & Natural Paint Co, and I'm focused on the education and promotion of natural non toxic alternatives to chemical laden everyday products that we just take for granted. We have a choice, and I want to raise awareness of alternative products that don't actually harm us!
This company is my way of pushing the awareness of better indoor air quality, something that I am personally passionate about due to my own children's breathing medical conditions. I just couldn't paint with big brand standard petrochemical paint any longer and wanted another solution.
Read more: About me
Twitter: NaturalPaintCo
Instagram: thenaturalpaintco