We have a great selection of breathable and natural lime paints, suitable for traditional or heritage buildings, lime plasters and lime renders.
Below, we have a nice detailed to guide to the use of limewash, the history and how to use it as an amazing wall finish.
Auro 326 'Chalk' Paint is very similar to Limewash, and the best choice.
Hygroscopic to allow good breathability for walls; this is perfect for older, historic buildings.
This traditional paint on the basis of slaked lime is perfectly suited for application in rooms with high or varying temperatures and humidity, e.g. laundry rooms or cellars.
Quick links to the common lime questions below!
Example Lime Paints that can be used as a modern Lime wash
Rather than the frequent coats of standard limewash, you can just use a modern lime paint like this and not have to worry for years!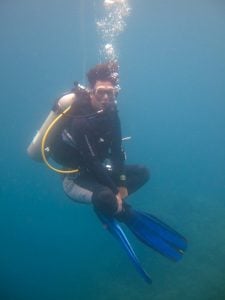 Hi! I'm Chris,  the founder of The Organic & Natural Paint Co, and I'm focused on the education and promotion of natural non toxic alternatives to chemical laden everyday products that we just take for granted. We have a choice, and I want to raise awareness of alternative products that don't actually harm us!
This company is my way of pushing the awareness of better indoor air quality, something that I am personally passionate about due to my own children's breathing medical conditions. I just couldn't paint with big brand standard petrochemical paint any longer and wanted another solution.
Read more: About me
Twitter: NaturalPaintCo
Instagram: thenaturalpaintco