How much does shipping cost?
Our standard shipping to UK addresses: is next working day if ordered before 11am.
The cutoff for same day despatch is 11am *
Colour Charts: 1st Class, sent within 1 working day. FREE
Tester Pots: 1st Class – £5.75 (1-3 Testers only due to weight limits, 4 or more become a 'standard order' below)
Order Size: 0-20 kg – Next Working Day £12.50
Order Size: 21-40 kg – Next Working Day: £22.75 *
Order Size: 41 kg+ – Next Working Day: £50 ** Large orders of big tubs will need to be sent on a pallet, so may be an extra 1 or 2 working days, please contact if specific date required.
* Please note, if this is your first order we will only send to the cardholders/billing address for security, even if you have put in a different shipping address when in the checkout.  If you would like an order shipped elsewhere get in contact first. Security is our priority.
All orders placed after 11am are processed in the morning of the next working day. Next working day orders that are placed at the weekend will be packed and shipped on Monday, and will be delivered on Tuesday. Saturday and Sunday are not working days for either us or the couriers.
Where is my delivery?
Please note that we have a 11:00am cutoff, so any orders received after 11:30am will be processed the next working day. Saturday, Sunday, Bank Holidays etc are not working days. Please check the date and time you ordered.
NEXT WORKING DAY: If you order pre 11am, your order will be delivered the next working day. Examples: Pre 11:00am order on a Monday will arrive Tuesday. A  Pre 11:00am order on Friday will arrive on Monday, a post 11am order on Friday will arrive on Tuesday (as it's processed on Monday)
How can I track my delivery?
If your order has tracking data we will notify you by email with the tracking ID. For the vast majority of orders this is with DHL
When time will the courier arrive?
Most of our deliveries are with DHL, and they deliver anytime between 8am – 7pm (This may have changed due to Covid)
Why has my economy order not been marked as shipped yet?
If your order has not been marked as shipped yet, and it's been a couple of working days, fear not. This is due to us being swamped with orders and we've had to prioritise. The paints are lovingly hand picked, hand coloured and hand packed to order, no quick robots here! Your order will still be on time, but we've just taken a hit and upgraded it to next working day at the last moment so we could make sure we could get next day delivery orders out the door for certain. We're a small team, and if we have to take a little hit on the odd order or two to make up for lost time, this is what we do! It makes no difference to you, you still get your order within 3-4 working days. We update the shipping status either last thing in the day, or first thing the next day – so don't worry.
Why didn't the courier read my delivery instructions?
Although we send through all extra delivery details you add to your order through to the courier(s) we have to state that courier has the right not to honour these extra details if they feel it is not safe, or for other reasons, so we cannot guarantee that they will leave in your 'safe place' or 'designated area' as we have no control of this. We are told by the courier they 'are not obliged' to read any extra details. So please make sure someone is there to sign for your order if needed.
My delivery was "refused", what does that mean?
Any orders that are 'refused' delivery to the specified address are still accountable for by the customer. If the delivery is refused and it is sent back to our depot, the customer will be liable for the cost of this return, and also the cost of return to themselves if the order cannot be refunded e.g. if it is a personalised item such as mixed to order paint.
My delivery was late! Why was this?
We cannot be held responsible for your order once the courier has collected from our depot. If the courier is at fault, we will do everything we can to help speed up the process for you, but ultimately we cannot be liable for any losses or delays at the customers end due to errors not made by us. If the order has been damaged or broken, please see the damaged goods section above.  All couriers are external companies and we are not responsible for their actions.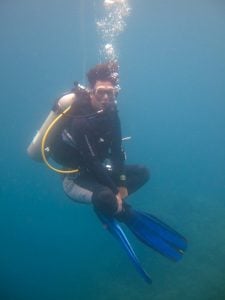 Hi! I'm Chris,  the founder of The Organic & Natural Paint Co, and I'm focused on the education and promotion of natural non toxic alternatives to chemical laden everyday products that we just take for granted. We have a choice, and I want to raise awareness of alternative products that don't actually harm us!
This company is my way of pushing the awareness of better indoor air quality, something that I am personally passionate about due to my own children's breathing medical conditions. I just couldn't paint with big brand standard petrochemical paint any longer and wanted another solution.
Read more: About me
Twitter: NaturalPaintCo
Instagram: thenaturalpaintco