How to spray natural paints on walls and ceilings.
Graphenstone natural paints can be sprayed with a decent quality spray gun quite easily with basic instruction. Using a paint sprayer can be a great idea when you have a large amount of wall to cover, or you want a totally uniform finish. 
Different spray machines can produce different results. The information provided in this document are designed to offer guidance only for spraying the Graphenstone products. We recommend carrying out a test area before commencing spraying
Using Graco Spray tips for better results
We are not affiliated with Graco, but Graphenstone recommend using this brand for spraying paint, and all the product testing has been done with this brand.
All Graco Spray Tips have a 3-digit code that tells you the fan width and orifice size. When the fan size is kept the same, the flow of paint (or coat thickness) can be increased or decreased by using a larger or smaller orifice size – for example, a 511 tip will apply a thinner coat than a 517, but both will provide a 10″ fan width. When using heavier bodied paints such as Graphenstone, it becomes necessary to use a tip with a higher flow rate (larger orifice number) to avoid unnecessary tip wear. The images below provide a guide to understanding tip codes and the effects of changing tip sizes and orifices:

Filters for spraying paint
Most Airless spray machines have 3 stages of filtration; at the suction inlet, manifold and in the gun. This helps to remove particulate contaminants from the paint that may affect the finish, cause unnecessary wear to the machine and spray gun tip and ultimately lead to a blockage. Depending on what you are spraying you need to increase or decrease the mesh count at all 3 filtration points.
Spray techniques when spraying interior walls and ceilings
The Fundamentals of spraying walls
A good spray pattern indicates that the coating is distributed evenly on the substrate. Several techniques help determine the quality of the spray pattern and the quality of the finish:
Adjusting Pressure on your paint sprayer
The lowest pressure needed to achieve a solid cross section as shown should be used. This avoids overspray and 'tails' to the spray pattern. If insufficient pressure means you can't get satisfactory fan pattern, use a tip with a smaller orifice.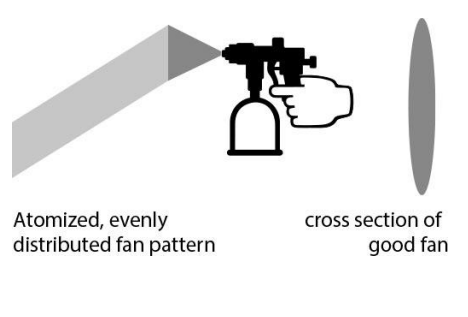 How to aim a paint spraying gun
The gun should be aimed at the substrate from 10-12″ away, ensuring that the tip is always aimed parallel to apply an even coat. For an even finish, avoid tilting the gun up or down or fanning it side to side.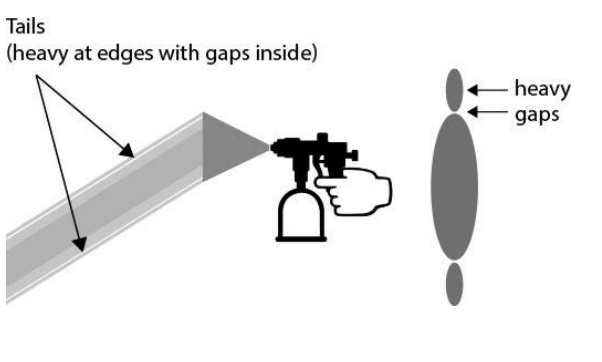 How to move a paint spraying gun for the best finish
The timing of trigger activation and release and movement of the gun is shown to the right. The trigger should be pulled once the gun is in motion otherwise a heavy coat will be applied at the point the trigger is pulled before it is moved across the surface.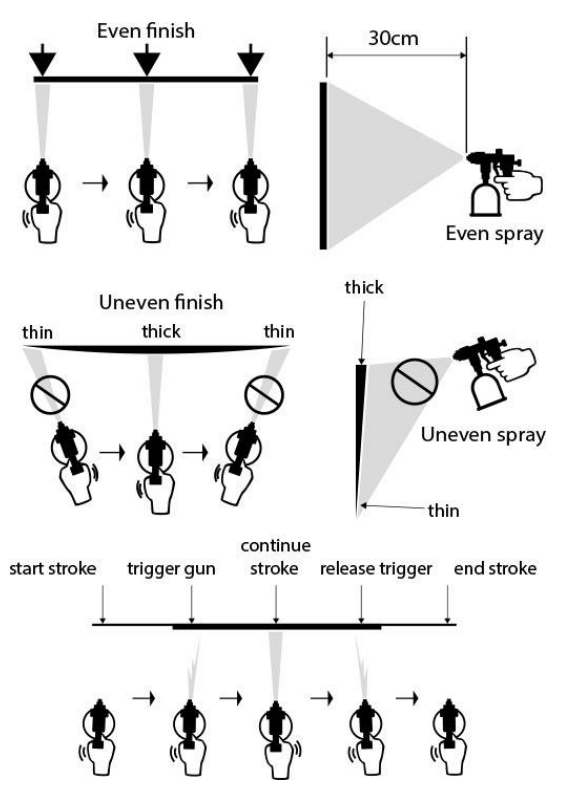 Maintenance and servicing of a paint sprayer
The most common cause of downtime for a spray machine is due to paint clogging the internals of the machine – follow these pointers to ensure downtimes reduced to a minimum:
Before spraying, be sure to check that all filters are clean
Ensure that all connections are tight and the hoses are intact and free of kinks or other defects
Never leave paint standing in the machine for more than an hour
Always add a few drops of throat seal lubricant to the packings before spraying – this reduces wear and tear from the piston
Perform a final flush using pump conditioner – this prevents the intake check balls from becoming stuck in their housings which can happen when water alone is used
Packings should be replaced before the packing nut cannot be tightened any further
Tips should be cleaned with a soft brush and dried thoroughly before storage
Tips should be replaced once the fan pattern begins to degrade
How to Spray Graphenstone Paints
Most of the Graphenstone paint range can be spray applied if required and we have tested our products in conjunction with Graco Inc, the market leading Spray machine supplier.
Our tests were carried out using Graco GX21 airless sprayer.
The testing carried out suggests the following parameters for optimum results. Ecosphere: Apply neat using 517 tip at 1800-2000psi
GCS Interior: Thinned with water 20% weight using 517 tip at 1600psi GrafClean Matt: Thinned with water 10% by weight using 517 tip at 2000psi
GrafClean Mid Sheen: Thinned with water 5% by weight using 517 tip at 1700 psi.
Due to the nature of using Lime and Mineral bases, there is a certain amount of particle `pick up' in the filters, so it is recommended that filters are cleaned at regular intervals during prolonged spraying.
How to Spray Graphenstone Biosphere and GCS Exterior
Although viscosity and solid content of these paints are similar to their interior versions (Ecosphere and GCS Interior), the larger granular properties of these two products can cause higher than usual abrasion inside the packings of your Spray machine. Also 'pick up' in the filters is higher than normal. With these two issues in mind, spraying Biosphere and GCS Exterior, should be avoided, or provisions made to service the spray machine or replace the packings after use.