Choosing the right paint colour for your home's interior walls can have a significant impact on the overall ambiance and mood of your living space. While personal taste plays a key role in selecting the perfect hue, there are certain colours that have become popular choices among homeowners in recent years. In this article, we will explore the most popular colours for interior walls, as well as the reasons behind their popularity, to help you make an informed decision when updating your home.
Off White Paint Colours
Off white is a classic and timeless neutral choice for interior walls, providing a clean and bright backdrop for a variety of design styles. This versatile colour creates a sense of openness and space, making it an ideal choice for small rooms or areas with limited natural light. Off white is also a fantastic base colour for those who enjoy experimenting with different accent colours and decor, as it easily complements a wide range of hues.
Read more: The Elegance of White and Off-White Interior Wall Paints: A Comprehensive Guide
Light Grey Paint Colours
Light grey has emerged as a popular neutral colour for home interiors, offering a contemporary alternative to traditional off white or beige. This subtle shade brings a sense of sophistication and elegance to any room, pairing well with both modern and classic furniture and accessories. Light grey walls can help to create a calming environment, perfect for bedrooms and living areas where relaxation is key.
Read more: The Timeless Charm of Grey Interior Wall Paints: A Comprehensive Guide
Pale Blue Paint Colours
Pale blue has long been a favourite choice for creating a serene and peaceful atmosphere in the home. This cool hue is often associated with coastal or beach-inspired interiors, evoking a sense of tranquillity and freshness. Pale blue works beautifully in bathrooms and bedrooms, but can also be used to great effect in living spaces where a calming vibe is desired.
Read more: The Allure of Blue Interior Wall Paints: A Comprehensive Guide to a Timeless Classic
Soft Green Paint Colours
Soft green shades, such as sage or mint, have gained popularity for their ability to bring a touch of nature indoors. These gentle hues can create a soothing environment that promotes relaxation and well-being. Soft green walls can be particularly effective in spaces that receive plenty of natural light, as they help to enhance the connection between the indoors and the outdoors. Pair with natural materials and textures for a harmonious and organic aesthetic.
Read more: The Lush Life: Embracing Green Wall Paints for a Vibrant and Tranquil Home
Warm Beige Paint Colours
Warm beige tones, like taupe or sand, continue to be popular choices for interior walls due to their versatility and timeless appeal. These warm neutrals can help to create a cosy and inviting atmosphere, making them particularly well-suited for living rooms and family spaces. Warm beige, or even pale brown walls also provide a fantastic backdrop for bold accent colours, allowing you to inject personality and flair into your home without overpowering the space.
Blush Pink Paint Colours
Blush pink has experienced a resurgence in popularity, thanks in part to the rise of the 'millennial pink' trend. This delicate hue adds a touch of warmth and softness to any room, making it a popular choice for bedrooms and nurseries. Blush pink walls can also add an element of romance to living spaces, particularly when paired with plush fabrics and metallic accents.
Read more: Embracing Pink: A Journey Through the World of Pink Wall Paints
In Summary
Ultimately, the best interior wall colour for your home will depend on your personal taste and the specific needs of your space. However, by considering the popular choices outlined in this article, you can be confident in selecting a hue that is both on-trend and timeless. Whether you opt for a classic off white, a soothing pale blue, or a contemporary light grey, the right colour can transform your home into a sanctuary that reflects your unique style and personality.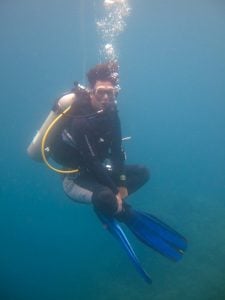 Hi! I'm Chris,  the founder of The Organic & Natural Paint Co, and I'm focused on the education and promotion of natural non toxic alternatives to chemical laden everyday products that we just take for granted. We have a choice, and I want to raise awareness of alternative products that don't actually harm us!
This company is my way of pushing the awareness of better indoor air quality, something that I am personally passionate about due to my own children's breathing medical conditions. I just couldn't paint with big brand standard petrochemical paint any longer and wanted another solution.
Read more: About me
Twitter: NaturalPaintCo
Instagram: thenaturalpaintco